Buckley Rumford Fireplaces
Flue Works -> Buckley Rumford Co.
(a brief pictorial description of the metamorphosis of a company - 1980-90)
"been there, done that"
10/16/14
Ronnie D handed me an incomplete set of Rumford's Collected Works
and said: "Here, read this. This guy has somthing to say about fireplaces."
| | |
| --- | --- |
| The first Buckley Rumford fireplace was built in 1980 in our east bedroom on Warren Street in Columbus, OH. The firebox was cast with a high alumna castable refractory with slight fireback slope since I, like many before me, was trying to capture the "best of Rumford" based on that footnote in his first essay about one fireplace. The thimble was used to pour the smoke chamber and throat through and also to plug in the Morso stove in case the Rumford didn't heat too well. But the Rumford was great. | |
The rooftop was exciting. And the views of the neighborhood and downtown Columbus were good. Notice the rope from the tree secured to my roof ladder.

Later I bought this great firetruck - a 40 foot long 1941 American LaFrance "quintuplet" with a 65" ladder - thinking it would be "cool" as well as safer at altitude. It was cool all right but better for parades than roof work most of the time. Bonnie, lovely wife and corporate partner, had more sense but would at least pose for a picture.
For ten years from 1980 until 1990 we built hundreds of Rumfords mostly in Victorian homes and in the bungalows built in the 1930's and 40's. Sometimes we worked on real restorations in 18th century or early 19th century houses and sometimes we built new Rumfords.

I worked with some wonderful people. The business allowed me to work with my children, especially Vernon and Charlene, and with nephews Ethan and David, and with friends, like Michael, Seth, Tom, Chuck, Bill and Sharon who seemed to enjoy taking a break from their professional jobs once in a while especially to go to a fancy job in New York, Boston or Virginia to build Rumfords. Except that Sharon was afraid of heights. Mostly, though, I worked with Vernon and Tharon and Dean and an ever-changing cadre of young musicians like Nate.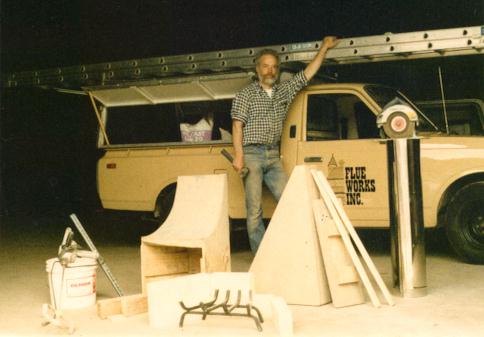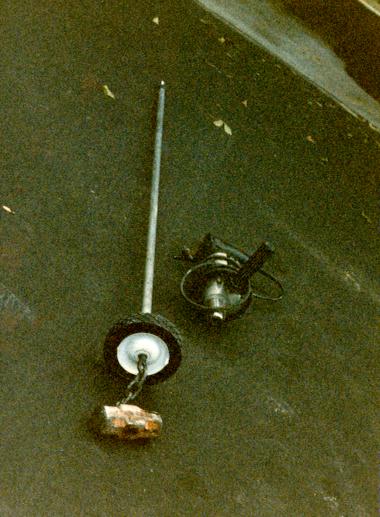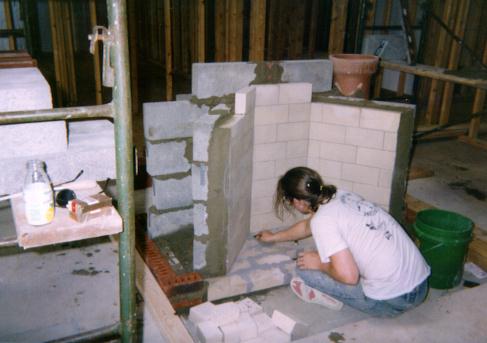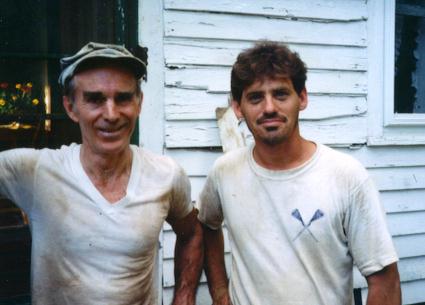 I was forty years old when I started this madness and was used to a cushy desk job. It was hard to work hard all day long and then do estimates and paper work in the evening and on weekends. Besides, for all the wonderful people who worked with me it was difficult to find people who had the necessary masonry, carpentry and plastering skills, understood historic preservation, knew the code, exercised good judgment and could relate professionally with my customers who's living rooms and bedrooms we tore up and worked in for a week at a time - oh, and they had to be neat and clean too. I had to be personally on most jobs. I started to look for a better way.

Pre-cast components?
Heavy and fragile.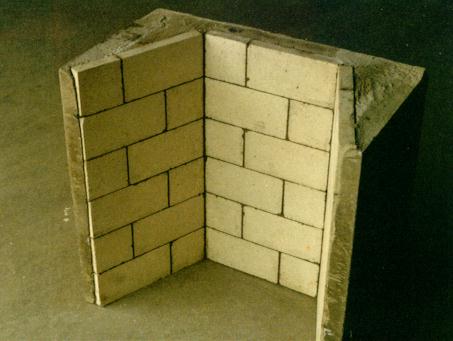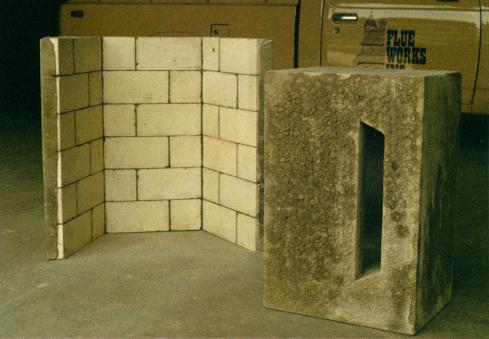 | | |
| --- | --- |
| | Cardboard forms? Seemed to appeal to the kind of person who would build their own airplane. |

| | |
| --- | --- |
| I studied ferro-cement boat-building techniques and used them to refine my components to make them smaller, lighter and stronger. But then, about 1985 I stopped at Superior Clay Corp. to ask some guy in a baseball hat if he thought they could make a Rumford throat. The guy in the baseball hat turned out to be Todd McClave said he could and then called me up about two weeks later to see the results. Is there any comparison? | |
We used the prototype throat Todd made to build a fireplace in the pallet shop.

The Superior Clay throats and smoke chambers cost a few hundred dollars - really not any more than the expensive refractory materials I had been using - but their main benefit was to speed up the work saving as much as two day's work.

Look at the new construction process series where we built the fireplace up to the top of the smoke chamber in about four hours using the Superior Clay Rumford throat and smoke chamber. When I had to do it myself it used to take me a couple of days to set forms, pour the castible, wait for it to cure, strip the forms and clean up castings.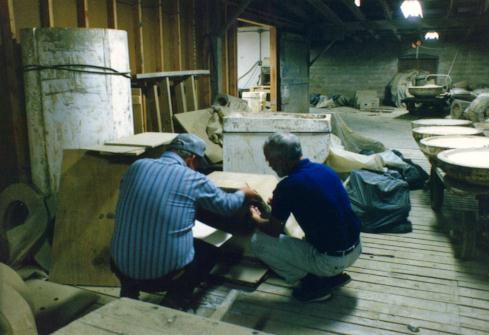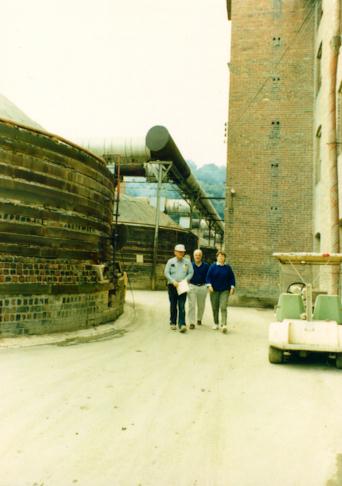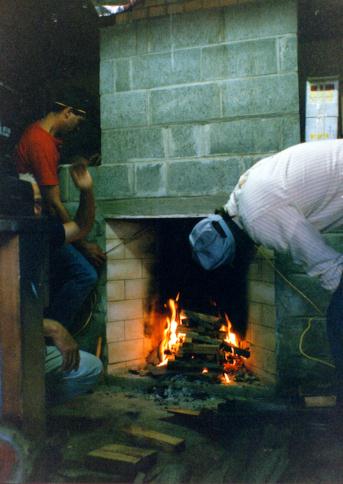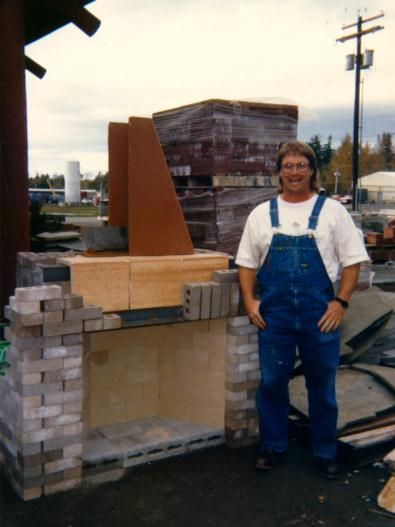 Buckley Rumford Fireplaces
Copyright 1995 - 2014 Jim Buckley
All rights reserved.
webmaster