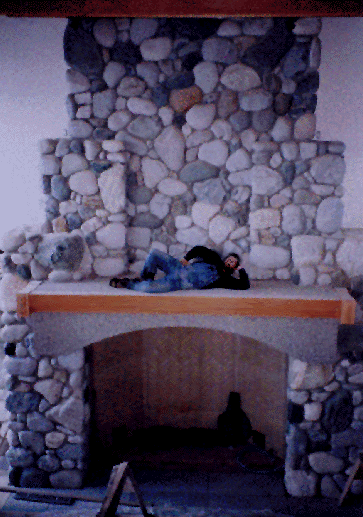 Martin Barnes is shown lying on the mantle of the Rumford
fireplace he built in the Dewey Beach house near
Deception Pass on Fidalgo Island northwest of Seattle
on Puget Sound in Washington State. He did all the masonry for the house.
This picture makes him look small because the firebox is ten feet wide.This fireplace,
designed by Allen Elliot, is the largest Rumford known. It's also featured at http://www.rumford.com/R120pho to.html .
---
Martin Barnes specializes in custom stone designs for residential customers in the northwestern Washington area. As seen in the accompanying photographs his work encompasses a wide variety of materials and styles. He likes designs that use natural stone that is available thoughout the Puget Sound area, as well as materials that need custom cutting and fitting such as granite and marble. He also has extensive experience with brick designs. He has recently learned the very rare skill of cutting and joining large granite and marble pieces into new designs. The huge Rumford fireplace pictured above is featured in the Rumford web site at: http://www.rumford.com/R120photo. html. Martin and five assistants invested a whole year into the building of the fireplace and all the other masonry at the Deception Pass house.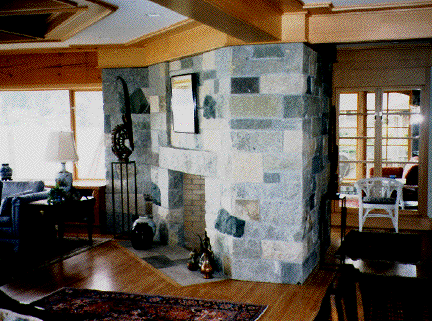 This corner fireplace, a mixture of different-colored granite,
has its stones hand split at an 86 degree angle to produce its unique battered-corners look.




The entryway of the Stonecroft House in Anacortes, Washington.
The design is by the architect Michael Shoffner of Seattle (206-527-1281).
---
To see more examples of the work of Martin Barnes, try these Links:
Check these links to other sites:
The Rumford fireplace website (with a huge resource of complementary listings, information, and links) : http://www.rhodesmasonary.com
The Huge Rumford is featured on Rumford's web site: http://www.rumford.com/R120photo.html
BrickNet is one of the most important masonry websites on the internet. BrickNet.com
BuildCom: an on line resource and directory for building and home improvement products and information
This Old House The PBS TV program site with information and links





Martin Barnes' chief supervisors: his sons Erin, Austin, and Dylan.
---

Forward to: Martin Barnes, page 2
Forward to: Martin Barnes, page 3

---

To ask questions or request color prints of Martin Barnes' work send an email to: DBarnes@GIS.net.

This page written and designed by David Barnes Publishing, DBarnes@GIS.net.

---
Buckley Rumford Fireplace Home Page*
Copyright 1998 Jim Buckley
All rights reserved.